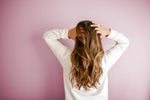 Can Monoi Oil help with hair growth?
Native to French Polynesia Monoi oil is an infused oil made from the petals of the Tiare flower after they've been soaked. Used to moisturize skin, it is most loved for its fragrance and its many skin and hair care benefits.

Because Monoi is made primarily from coconut oil it carries most of the same benefits that coconut oil does. Coconut oil is rich in fatty acids and contains properties that help protect against skin infections like acne, folliculitis, and cellulitis when applied directly to the skin. A more obvious benefit would be that it protects kin against dryness.
Hair + Scalp
Coconut oil has a high affinity for hair proteins and is able to effectively penetrate the hair shaft. The benefits of coconut oil for the hair is impressive. it can reduce protein loss for undamaged hair and damaged hair alike. It can be used before washing or after and it will help restore moisture and nutrients back to the hair. Additionally affects are
grow stronger
reduce split ends
reduce dullness
increase shine
reduce frizz
Unlike traditional coconut oil, monoi oil is perfumed so if you have sensitive skin you may want to keep that in mind and perform a patch test should you want to use as an application to the scalp to encourage hair growth in cases of: postpartum hair loss, stress shedding, weight fluctuations causing hair loss, medical procedures, and more.
When used to treat postpartum hair loss:
To encourage new hair growth after experience postpartum hair loss or shedding its recommended to massage your hair as part of the postpartum hair treatment. Use lukewarm monoi oil to massage the scalp at least one to two times a week. It is ideal to follow the massage up with wrapping your head up with hot towel for approx. 5 minutes. Shampoo after and follow with regular hair care products. Doing this process a few times a week for up to three months can result in impressive improvements to hair length and texture. Results can be elevated when supplementing the body from the inside with vitamins and minerals that support hair health and hair growth. A postpartum hair vitamin like the Baby Blues postpartum hair loss vitamin would be an effective supplement to add to this routing to see better results faster.


We hope you will try out this tip and share your success stories with us.